---
Baculovirus synergism: investigating mixed alphabaculovirus and betabaculovirus infections in the false codling moth, thaumatotibia leucotreta, for improved pest control
Authors: Jukes, Michael David
Date: 2018
Subjects: Baculoviruses , Cryptophlebia leucotreta -- Biological control , Citrus -- Diseases and pests -- South Africa , Pests -- Integrated control , Nucleopolyhedroviruses , Natural pesticides , Cryptophlebia leucotreta granulovirus (CrleGV)
Language: English
Type: text , Thesis , Doctoral , PhD
Identifier: http://hdl.handle.net/10962/61797 , vital:28061
Description: Baculovirus based biopesticides are an effective and environmentally friendly approach for the control of agriculturally important insect pests. The false codling moth (FCM), Thaumatotibia leucotreta (Meyrick) (Lepidoptera: Tortricidae), is indigenous to southern Africa and is a major pest of citrus crops. This moth poses a serious risk to export of fruit to foreign markets and the control of this pest is therefore imperative. The Cryptophlebia leucotreta granulovirus (CrleGV) has been commercially formulated into the products Cryptogran™ and Cryptex®. These products have been used successfully for over a decade as part of a rigorous integrated pest management (IPM) programme to control T. leucotreta in South Africa. There is however, a continuous need to improve this programme while also addressing new challenges as they arise. An example of a rising concern is the possibility of resistance developing towards CrleGV. This was seen in Europe with field populations of the codling moth, Cydia pomonella (Linnaeus) (Lepidoptera: Tortricidae), which developed resistance to the Mexican isolate of the Cydia pomonella granulovirus (CpGV-M). To prevent such a scenario occurring in South Africa, there is a need to improve existing methods of control. For example, additional baculovirus variants can be isolated and characterised for determining virulence, which can then be developed as new biopesticides. Additionally, the potential for synergistic effects between different baculoviruses infecting the same host can be explored for improved virulence. A novel nucleopolyhedrovirus was recently identified in T. leucotreta larval homogenates which were also infected with CrleGV. This provided unique opportunities for continued research and development. In this study, a method using C. pomonella larvae, which can be infected by the NPV but not by CrleGV, was developed to separate the NPV from GV-NPV mixtures in an in vivo system. Examination of NPV OBs by transmission electron microscopy showed purified occlusion bodies with a single nucleopolyhedrovirus morphology (SNPV). Genetic characterisation identified the novel NPV as Cryptophlebia peltastica nucleopolyhedrovirus (CrpeNPV), which was recently isolated from the litchi moth, Cryptophlebia peltastica (Meyrick) (Lepidoptera: Tortricidae). To begin examining the potential for synergism between the two viruses, a multiplex PCR assay was developed to accurately detect CrleGV and/or CrpeNPV in mixed infections. This assay was applied to various samples to screen for the presence of CrpeNPV and CrleGV. Additionally, a validation experiment was performed using different combinations of CrpeNPV and/or CrleGV to evaluate the effectiveness of the mPCR assay. The results obtained indicated a high degree of specificity with the correct amplicons generated for each test sample. The biological activity of CrpeNPV and CrleGV were evaluated using surface dose bioassays, both individually and in various combinations, against T. leucotreta neonate larvae in a laboratory setting. A synergistic effect was recorded in the combination treatments, showing improved virulence when compared against each virus in isolation. The LC90 for CrpeNPV and CrleGV when applied alone against T. leucotreta was calculated to be 2.75*106 and 3.00*106 OBs.ml"1 respectively. These values decreased to 1.07*106 and 7.18*105 OBs.ml"1 when combinations of CrleGV and CrpeNPV were applied at ratios of 3:1 and 1:3 respectively. These results indicate a potential for developing improved biopesticides for the control of T. leucotreta in the field. To better understand the interactions between CrleGV and CrpeNPV, experiments involving the serial passage of these viruses through T. leucotreta larvae were performed. This was done using each virus in isolation as well as both viruses in different combinations. Genomic DNA was extracted from recovered occlusion bodies after each passage and examined by multiplex and quantitative PCR. This analysis enabled the detection of each virus present throughout this assay, as well as recording shifts in the ratio of CrleGV and CrpeNPV at each passage. CrleGV rapidly became the dominant virus in all treatments, indicating a potentially antagonistic interaction during serial passage. Additionally, CrpeNPV and CrleGV were detected in treatments which were not originally inoculated with one or either virus, indicating potential covert infections in T. leucotreta. Occlusion bodies recovered from the final passage were used to inoculate C. pomonella larvae to isolate CrpeNPV from CrleGV. Genomic DNA was extracted from these CrpeNPV OBs and examined by restriction endonuclease assays and next generation sequencing. This enabled the identification of potential recombination events which may have occurred during the dual GV and NPV infections throughout the passage assay. No recombination events were identified in the CrpeNPV genome sequences assembled from virus collected at the end of the passage assay. Lastly, the efficacy of CrpeNPV and CrleGV, both alone and in various combinations, was evaluated in the field. In two separate trials conducted on citrus, unfavorable field conditions resulted in no significant reduction in fruit infestation for both the virus and chemical treatments. While not statistically significant, virus treatments were recorded to have the lowest levels of fruit infestation with a measured reduction of up to 64 %. This study is the first to report a synergistic effect between CrleGV and CrpeNPV in T. leucotreta. The discovery of beneficial interactions creates an opportunity for the development of novel biopesticides for improved control of this pest in South Africa.
Full Text:
---
Communicating in/from the Cave: a communication for development/social change project aimed at enhancing communication, action and learning within the science cave, a learner-led Grade 10 science club in a public school in Makhanda
Authors: Bombi, Thandi
Date: 2019
Subjects: Science -- Study and teaching (Secondary) -- South Africa , Communication in science -- South Africa , Science -- Study and teaching (Secondary) -- South Africa -- Makhanda , Communication in science -- South Africa -- Makhanda , Student centered learning -- South Africa , Student centered learning-- South Africa -- Makhanda
Language: English
Type: text , Thesis , Masters , MA
Identifier: http://hdl.handle.net/10962/96837 , vital:31330
Description: This research seeks to design, execute and reflect on a process where the principles and techniques of Communication for Development and Social Change are applied to enhance, support and develop qualitative changes within a learner-led Grade 10 science club at a public school in Makhanda. It draws and reflects on an ethnographic action research (Tacchi et al 2003) cycle proposed to explore the club's communicative ecology (Foth & Hearn 2007) and resources, and understand how these have the potential to encourage the expression of voice (Couldry 2010: 580) and participation (Carpentier, 2011) in the members of the club. The research then attempts to understand the kind of communication, action and learning that takes place as well as the ways in which the framework is able to support the club (or not). The research uses an ethnographic narrative, told from the perspective of the researcher informed by field notes, interviews and participant reflections written during the intervention. This narrative, alongside an analytical summery of the club's complex communicative ecology, tells the story of a club building confidence within a closed group and using that to connect with a wider public, articulating its needs, resources and potential supporting stakeholders for the club's future development. The club is able to share its achievements with a community of peers and uses the platform of Facebook, to communicate with and inspire other like-minded people with an interest in science and their community.
Full Text:
---
File integrity checking
Authors: Motara, Yusuf Moosa
Date: 2006
Subjects: Linux , Operating systems (Computers) , Database design , Computer security
Language: English
Type: Thesis , Masters , MSc
Identifier: vital:4682 , http://hdl.handle.net/10962/d1007701 , Linux , Operating systems (Computers) , Database design , Computer security
Description: This thesis looks at file execution as an attack vector that leads to the execution of unauthorized code. File integrity checking is examined as a means of removing this attack vector, and the design, implementation, and evaluation of a best-of-breed file integrity checker for the Linux operating system is undertaken. We conclude that the resultant file integrity checker does succeed in removing file execution as an attack vector, does so at a computational cost that is negligible, and displays innovative and useful features that are not currently found in any other Linux file integrity checker.
Full Text:
---
The effects of a 160 km run on selected anthropometric, physiological and psychological parameters
Authors: Oltmann, Carmen
Date: 1992
Language: English
Type: Thesis , Masters , MSc
Identifier: vital:5148 , http://hdl.handle.net/10962/d1009706 , Marathon running -- Psychological effects , Marathon running -- Physiological effects
Description: Twenty-one male subjects volunteered to participate in this study of the effects of an u1tramarathon run under competitive conditions. Selected anthropometric measurements were made before and after the race. Blood samples were taken before, and within 10 min. of completing the race. Haematocrit and cortisol concentrations were analysed from each sample. Three ratings of perceived exertion (RPE) - local, central and overall, were obtained at two-hourly intervals throughout the race. The shortened form of the Eysenck Personality Inventory (EPI) was administered before the race. The Profile of Mood States (POMS) test was completed both before and immediately after the race. The average running intensity was estimated to be about 32% VO₂max which would not have caused major lactate accumulation. Repetitive compressive forces as a result of heel-strike resulted in intervertebral disc fluid loss. This resulted in a significant (p<0.05) decrease in stature after the race. Mobilization of glycogen, trig1ycerides and protein for metabolism as well as fluid loss via sweat resulted in significantly decreased body mass after the race. Plasma volume and serum cortisol concentrations were significantly increased after the race compared to pre-race baseline levels. Local RPE responses were dominant throughout the entire race, followed by overall RPE. Running 160 km had an effect on mood state. "Depression", "fatigue" and "confusion" (profile of Mood states) were all significantly increased compared to pre-race scores. Sleep deprivation as a result of running through the night was probably an important contributing factor. The anthropometric profile of the ultramarathon runners in this sample was more like that of the general population than elite marathon runners from the literature. The ultramarathon runners were more extroverted than elite marathon runners, but exhibited a similar Profile of Mood state before the race. The stressor - running 160 km - resulted in a 'strain response'. This was evident in the decreased stature and mass, and increased serum cortisol, "depression", "confusion" and above all "fatigue".
Full Text:
---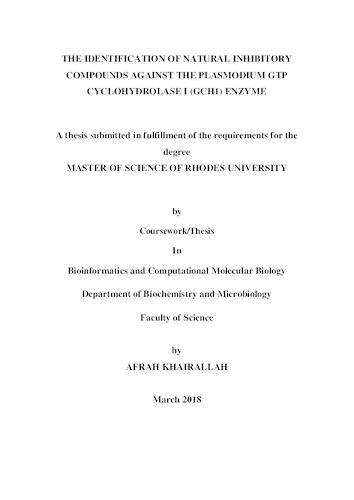 The identification of natural inhibitory compounds against the plasmodium GTP Cyclohydrolase I (GCH1) enzyme
Authors: Khairallah, Afrah
Date: 2019
Subjects: Plasmodium , Hydrolases , Drug resistance , Malaria -- Chemotherapy
Language: English
Type: text , Thesis , Masters , MSc
Identifier: http://hdl.handle.net/10962/72284 , vital:30026
Description: Malaria is a disease caused by protozoan parasites that invade red blood cells causing an infection. Malaria remains a global health problem. The genus Plasmodium infects about a quarter of a billion people annually, resulting in over a million death cases. This can severely affect the public health and socioeconomic development especially in countries with limited resources. Malaria is transmitted by the female Anopheles mosquito. Five species within the Plasmodium genus are known to cause infection in humans; namely Plasmodium falciparum, Plasmodium Ovale, Plasmodium knowlesi, Plasmodium vivax and Plasmodium malariae. The increased resistance by the parasite to the majority of available anti-malarial drugs has raised a great challenge in anti-malarial drug discovery. With the problem of drug resistance on the rise, the need to develop new anti-malarial treatment strategies and identification of alternative metabolic targets for the treatment of malaria is crucial. This study is focused on the Guanosine triphosphate CycloHydrolase I (GCH1) enzyme as a potential drug target. GCH1 is important for the survival of malaria parasites as shown by failed attempts to generate knockout lines in plasmodium falciparum. In this study, sequence and evolutionary analysis were carried out in both the human host and parasite GCH1 enzyme. Accurate 3D models of the parasite GCH1 were built and validated. The resulting models were used for high throughput screening against 623 compounds from the South African Natural Compounds Database (SANCDB; https://sancdb.rubi.ru.ac.za/). The high throughput screening was done to identify possible binding sites as well as hit compounds with high selectivity and binding affinity towards the parasite enzyme, this is followed by molecular dynamics simulations to identify protein-ligand complexes and analyze their stability. In this study, a total of five SANCDB compounds were identified as potential inhibitors: SANC00317, SANC00335, SANC00368, SANC00106, SANC00103 and SANC00286. It was found that GCH1 protein can be a potential anti-malarial drug target as it showed selective binding with the inhibitor compounds. The identified inhibitors showed good selectivity and lower free energy of binding towards the parasite GCH1. Force field parameters of GCH1 active site metal were derived and validated. The development of these force field parameters was important for accurate MD simulations of the protein active site; which will allow for future investigation of interactions and stability of the GCH1 protein-ligand complexes.
Full Text:
---
The legal implications of rugby injuries
Authors: Viljoen, Erna
Date: 2003
Subjects: Rugby football injuries -- South Africa , Sports medicine -- Law and legislation -- South Africa , Rugby football players -- Legal status, laws, etc. -- South Africa
Language: English
Type: Thesis , Masters , LLM
Identifier: vital:11058 , http://hdl.handle.net/10948/332 , Rugby football injuries -- South Africa , Sports medicine -- Law and legislation -- South Africa , Rugby football players -- Legal status, laws, etc. -- South Africa
Description: Sports law in South Africa is a field requiring exciting and intensive research. With so many sporting codes changing their status to professional sport, intensive research on the legal implications pertaining to each professional sporting code has also become necessary. Professional rugby in South Africa has grown into a multimillion rand industry. It is an industry whose role players need specialized legal advice on a multitude of issues. This dissertation addresses the legal issues arising out of the situation where a professional player is injured, during practice or a game, due to the intentional or negligent action of another. The medico-legal aspects of rugby, relating to causation and proof of injuries are an indispensable element of proving liability where rugby injuries are concerned. These aspects are crucial in assessing the criminal and delictual liability of players, coaches, referees, team physicians and even the union concerned. The problem of rugby violence, causing injury, is addressed by both the criminal law and the law of delict with the issue of consent being central to this discussion. Furthermore, the labour law implications can be far-reaching for both the player and the employer union due to the unique features of sport as an industry. All role players in professional rugby will have to cooperate with the legal community to ensure that a practical body of law is established in order to make rugby a safer sport for all concerned and to protect the professional player from unnecessary, incapacitating injury.
Full Text:
---
Toward universal sustainability: strategies and guidelines
Authors: Robertson, Struan Ross
Date: 2019
Subjects: Sustainability , Sustainable development , Economic development , Social planning
Language: English
Type: text , Thesis , Masters , MEcon
Identifier: http://hdl.handle.net/10962/71591 , vital:29922
Description: This research considers the notion of universal sustainability, which involves the three well-known pillars of sustainable development, namely, economic development, social development, and environmental sustainability. Critical to achieving this unity of purpose in the aligning of economic and social aspirations with the limits of the natural environment is the enhancing of human capability and the development of political institutions capable of representing the interests of all people by leveraging resources responsibly. Universal sustainability differs from the concept of sustainable development in that the emphasis is cast not on merely achieving economic development despite the challenges presented by social and environmental concerns, but on seeking to understand what a better society might look like that integrates outcomes in-line with these three factors. Universal sustainability is about re-thinking the purpose of material progress to realign this with the need for social cohesion and to reposition human values and expectations safely within ecological boundaries. In other words, strategies and guidelines that promote the realisation of universal sustainability would recommend a society that values economic and technological progress with equal measure to social development and environmental sustainability, as well as all the other factors that promote human wellbeing. Consequently, this research also considers the inter-linkages that are found between economic development (i.e. technological advancement) and social (i.e. normative progress) and societal (i.e. long-term institutional differentiation) development with respect to labour markets, the formation of skills, the scope of welfare regimes and hence, the trajectory of the social reproduction of society. The prospects of environmental sustainability, like that of societal development, are found to be influenced by the values that a society holds and the ability of economic and social factors to adapt in response to the environmental challenges that face societies in socially workable ways. This research concerns the great quest for meaning and purpose that humans have undertaken throughout history, and asks how human wellbeing – in its best, most expansive sense, can be improved and how societies can advance and prosper going forward while keeping the avenue of individual self-actualisation open as a possibility in the everyday lives of citizens? In achieving this end, this research looks at what economic development strategies suggest as tenable against these aspirations. Furthermore, this research looks at the experience of advanced democratic societies to better conceive of how material progress, social cohesion via education and welfare, and environmental sustainability can be attained. The selection of these countries ensures understanding for the kind of political arrangements that safeguard human wellbeing and give voice to freedom, material opportunities, and civic responsibilities. Critical to both these assessments is defining the mechanics that underlie the processes that achieve material and moral progress in human societies. The main goal of this research is to recommend strategies and guidelines for developing countries like South Africa that wish to develop and thrive. Therefore, this research presents an assessment framework for understanding both universal sustainability and how to achieve it. This research concludes that mindfulness about the natural environment and the services it supplies, as well as mindfulness about what drives economic development and what supports the conditions for human flourishing, are necessary for universal sustainability strategies and guidelines to work. Indeed, the ideologies that societies subscribe to and the values they hold are important 84 to creating the right conditions for economic tools to work to advance economic development, material improvement, socio-environmental justice, and ultimately for achieving universal sustainability. But central to both economic and environmental futures is an understanding that at the heart of the matter is a concern for apprehending what drives human behaviour and aspiration, and what creates social cohesion.
Full Text:
---
Uphononongo nzulu lwamasiko nezithethe kwiincwadi ezichongiweyo zesiXhosa: "Ityala lamawele no "Ukuba ndandazile"
Authors: Diko, Mlamli
Date: 2020
Subjects: Xhosa (African people) , Mqhayi, S E K -- Ityala lamawele , Tamsanqa, Witness K -- Ukuba ndandazile , Xhosa (African people) -- Social life and customs , Authors, South African -- 19th century -- Criticism and interpretation , Xhosa (African people) -- Rites and ceremonies , Mqhayi, S E K -- Critisicism and interpretation , Tamsanqa, Witness, K -- Criticism and interpretation , Xhosa literature -- Criticism and interpretation , Xhosa fiction -- History and criticism
Language: Xhosa
Type: text , Thesis , Masters , MA
Identifier: http://hdl.handle.net/10962/145232 , vital:38420
Description: Olu phando lujolise ekubhentsiseni nasekuphononongeni nzulu indima yamasiko nezithethe kwiincwadi ezichongiweyo zesiXhosa ezizezi, "Ityala Lamawele" (1914) ibhalwe nguSamuel Edward Krune Mqhayi kunye no "Ukuba Ndandazile" (1967) ibhalwe nguWitness Kholekile Tamsanqa. Amasiko nezithethe aya kuthi aphononongwe ngala: ukulobola, ingqithi nesithembu. Kwakhona, la masiko nezi zithethe ziya kuthi ziphicothwe kugudlwa kwizinto zesiNtu ezinobuzaza eziqhushekwe zaze zancathama phantsi kwawo. Umzekelo, phantsi kwesiko lokulobola kukho izithethe ezithiwe qhushe phantsi kwalo ezifana nokuhota, ukuyalwa komtshakazi nezinye. Zonke ezi zinto ziya kuthi zivelelwe. La masiko nezi zithethe zichongwe kuba kukholeleka into ethi zitshatshele ngokwendima eziyidlalayo kwezi ncwadi zimbini. Ukubalasela kwawo la masiko nezithethe akwaneli ekubeni indima yawo ityhilwe kwezi ncwadi kuphela, koko indima yawo ithi ityhile banzi ngentlalo kaXhosa. Lilonke, aba babhali babini ababhali ngezinto ezingaziwayo okanye ezibuntsomirha, koko babhala ngemiba echaphazela amaXhosa ngqo. Umphandi uya kuthi aqhaqhe iindlela la masiko nezithethe aqhutywa ngazo, iinjongo zokwenziwa kwawo kwakunye neziphumo xa ethe la masiko enziwa okanye angenziwa ngokusesikweni. Konke oku kuya kuthi kwenziwe egameni lobuXhosa bemveli. Umphandi uya kukwenza oku ngeenjongo zokuphicotha nzulu intsingiselo ngokwamasiko nezithethe zamaXhosa ezama ukutyhila obona bunyani bufihlakeleyo bamasiko nezithethe kunye nokuzalana kwawo nentlalo yamaXhosa. Ngaphezulu, kukutyhila into ethi kwaXhosa amasiko nezithethe ziintsika zokuphila, ngako oko ananto ithile ayithethayo kuthi thina maXhosa ungaphiki nje kuba ezakwaLizwi zidungadungile ngendlela yazo kumzi kaPhalo ze zasahlukanisa nezinto zoobawo bethu. Kunamhlanje nje azinqabanga iintetho ezithi ukunqula iminyanya nezinyanya bubuhedeni, ukuxhela ibhokhwe kuyongxengxezwa bubudimoni. Kule ngxoxo, kuya kujongwa isakhono nobuchule bababhali abathe babusebenzisa njengesixhobo sokukhusela inkcubeko yamaXhosa eyathi yabhunyulwa ngamaNgesi yasala nje ibhityile, yiyo ke ngoku le esele igululwa okwamathumbu ngurhulumente wenkululeko. Lilonke, kwa kolu phando kunconywa ababhali abaziingcungela ekubeni basebenzise ulwazi lwabo lolwimi ekukhuseleni inkcubeko yamaXhosa athi xa ahlomla ngayo uMkonto (2005: v) athi: The study of the survival of cultural traditional customs in isiXhosa literature is an overdue task facing literary critics. Le ngcali ingentla apha ihlaba ikhwelo kubaphandi besiXhosa ukuba banyathelele phezulu bephanda bebhentsisa ubunyani bamasiko nezithethe kuncwadi lwesiXhosa. Olu phando, ngaphezu kwazo zonke izizathu, lusabela elo khwelo. Kwelinye icala, uthi uSaule (1996) xa ethetha ngoMqhayi, nangona uMqhayi lo wayenobuhlobo nabefundisi bezakwaLizwi nokhanyo kodwa akazange ayivumele ingqondo nentliziyo yakhe ithwetyulwe ziinkolo neenkcubeko zasemzini. Ukutsho ngokwakhe oku uSaule (1996: 20) xa ahambisa enjenje: Although Mqhayi was obviously a brain child of the missionaries, he did not, unlike many writers at that time, allow their influence to engulf his thoughts. He uses a Bible as a technique rather than as an instrument that guides him towards predestined objectives. Le ngcinga kaSaule ingentla igxininisiwe kwilixa elingaphambili nguDikeni (1992: 12) xa wayesithi: It is clear that Mqhayi as one of the early writers could not address the political situation of the South Africa directly in his novel. He had to use an extended metaphor to avoid the strict laws of censorship. This he did by using a Biblical story and adapting it to his culture. Ngokwezi ngcali zimbini, kuyaqapheleka ukuba nangona uMqhayi lo ifuthe laseNtshona lazama kangangoko linako ukumthwebula kodwa ukuhlakanipha kwakhe kwamenza wagwencela okwesikhwenene kwiingcambu zakhe, kwisizwe sakhe, kumasiko nezithethe zakwaXhosa. Kungani ke ukuba singangamphakamiseli phezulu lo mbhali ngokuthi simane sindwendwela iimbalo zakhe sihlaba sikhangela ukuba zithetha ukuthini na kuthi sizwe sikaXhosa xa sikule ndawo sikuyo nje? Kwelinye icala, uMkonto (2005) umqhwabela izandla uTamsanqa xa athi nangona wayefundile akazange ayivumele imfundo imntywilisele eludakeni lwaseNtshona hleze buthi obu buncwane bezi ncwadi zakhe zifana no "Buzani Kubawo" (1958), "Ukuba Ndandazile" (1967), "Imitha Yelanga" (1967) kunye nezinye zaziya kufela engqondweni yakhe engakhange afundise umzi kaXhosa ngobuXhosa bawo. UMkonto (2005: 17) uhambisa athi xa ethetha ngoTamsanqa: Most of his experiences which he shared with people at the time were of hardships ... probably these were some of the experiences that triggered the themes expressed in 'Buzani kubawo' and 'Ukuba ndandazile' Ngokwala mazwi angentla, okona kuncomekayo ngoTamsanqa kukuba uthe nokuba sele ehlangabezana neenzingo zobomi kodwa wabona kukuhle ukuba afundise umzi kaXhosa ngaloo mahla ndinyuka kuba kakade lisiko kwaXhosa into yokuba xa uye wagileka endaweni ethile uze ufundise abanye ukwenzela ukuba bangangeni kulaa mgibe ubuwele kuwo. Bubuntu ke obo. Ubukhulu becala bezinto athe wadlula kuzo uTamsanqa zicazululwe kwisahluko sesibini esidandalazisa ubunzululwazi mlando mbali wobom ngababhali. Okunye, uTamsanqa sesinye sezizukulwana esathi saneTamsanqa lokukhula ngeliya xesha amasiko nezithethe kwaXhosa bezisaqhutywa ngendlela encomekayo kunangoku, kodwa umfundi makaqaphele ukuba umphandi akazami kuthelekisa amaxesha amasiko nezithethe ezaziqhutywa kodwa ubona kubalulekile ukuba icace inkolelo ethi amasiko nezithethe namaxesha awayeqhutywa ngawo awasafani. Kolu phando nzulu okunye okuphambili kukuthi nangona aba babhali babini bathi basebenzisa ulwimi oluntsokothileyo nezagwelo zokubhala ezifihlakeleyo ngendlela enomkhitha kodwa loo nto ibe lulutho kumzi kaPhalo kuba ushiyeke ufumbethe ulwimi lwesiXhosa. Ngaphezu koko amaXhosa ashiyeke efumbethe ulwazi ngamasiko nezithethe ekusafuneka efundisiwe. Ingcambu yolu phando ke ingamasiko nezithethe kusetyenziswa isiThako samaSiko neziThethe esiza kuchazwa banzi kwimihlathi engezantsi. Ngaphandle kokuphonononga nzulu intsingiselo yamasiko nezithethe, olu phando lukwayinkuthazo kwabanye ababhali ukuba bazeke mzekweni benjenjeya ukuzalisa umphanda kaXhosa ngamasiko nezithethe kunye nolwimi olusulungekileyo khona ukuze izizukulwana ngezizukulwana zibe nento yokufunda. Ukongeza, kukukhuthaza abo babhali baneembalo ezintlakekileyo nezibutenxarha ngokwamasiko nezithethe, nolwimi ke, ukuba baziqhelanise nokufunda iincwadi zesiXhosa, bafunde isiXhosa, baphande ngokuzinikela ngemiba yesiXhosa. Njengamntu mtsha, olu phando lukhuthaza olunye ulutsha ngokubaluleka kokulondolozwa kwenkcubeko ukuze isizukulwana esizayo sibe nokufunda kuyo. Uphando olu lujolise ekukhuliseni iimbalo zesiXhosa ingakumbi ke xa sele lubhalwe ngesiXhosa. Likho iqaqobana elibhalileyo ngesiXhosa kodwa ezinye zezo mbalo ziyakhwinisa ngenxa yegrama etenxileyo, umgangatho ophantsi wokusetyenziswa kolwimi ukunonga iintetho, nezinye iziphene. Masibe sisithi ziinzame ekukhucululeni nasekuphuculeni oko kwenziwa ngabeLungu; masingaligxeki kakhulu elo gcuntswana. Enye yezinto ezikhwinisayo kuluncwadi lwesiXhosa kukunqongophala kweencwadi ezibonisa isiNtu sethu ngendlela egqibeleleyo nemsulwa. Iyathuthumba into yokunqongophala kweencwadi ezingembali yethu ebhalwe sithi. Oku kunqongophala kufika kube negalelo elibi kubafundi neetitshala zesiXhosa ezona kufuneka zingcamle ubuncwane benkcubeko yazo kunye nabafundi jikelele. Iincwadi eziya kuthi zisetyenziswe zezo zababhali abaziinjojeli kubhalo lwesiXhosa, uS.E.K. Mqhayi noW.K. Tamsanqa. Isizathu soko asikokuba umphandi uzama ukuthelekisa ababhali koko uya kubachonga, okokuqala, ngenxa yokuba bengababhali abaphume izandla kuncwadi lwesiXhosa. Okwesibini, kunconywa ubuchule babo ekusebenziseni ulwimi nesakhono njengesixhobo sokuphakamisa umgangatho woncwadi lwesiNtu ngokuyeleleneyo namasikonezithethe. Okwesithathu, iimbalo zabo zezinye zeembalo ezithe zaphakanyiswa kakhulungabaphandi de zafumana amawonga ngamawonga. Okwesine, kudederhu lweencwadizesiXhosa ezingaka andinokwazi ukuthi ndilume umthamo omkhulu endizojika ndixakane nawo ndingakwazi ukuwuhlafuna ndiwucokisise hleze ndomiwe emqaleni ndingabisalugqiba kwa olo phando.
Full Text:
---