---
Campaigns Bulletin : The government is starving us to death!
Authors: SAMWU
Date: May 2001
Subjects: SAMWU
Language: English, Zulu, Swati, Xhosa, sePedi, seSotho and Afrikaans
Type: text
Identifier: http://hdl.handle.net/10962/113438 , vital:33775
Description: The wage talks are resuming on May 8th 2001. At the time of going to print, all provinces were holding marches all over the country to highlight our demands for a living wage. Currently on the table is a proposal by the conciliator that all parties should agree to accept an 8% across the board increase, and an increase in the minimum wage to R1900. Firstly this proposal has not yet been accepted by the employer. At the conciliation, the employer stuck to 5% only. Secondly this falls short of our demand. It means we will not get the R300 across the board. Any worker earning below R3800 per month is going to get an increase of less than R300. The hardest hit will be workers earning from R1700 - R3000 who will only get R136 - R240. There is nothing more we can get from conciliation or negotiations. It is now up to YOU the workers to decide if you will accept the 8% offer put on the table by the conciliator!
Full Text:
Date Issued: May 2001
---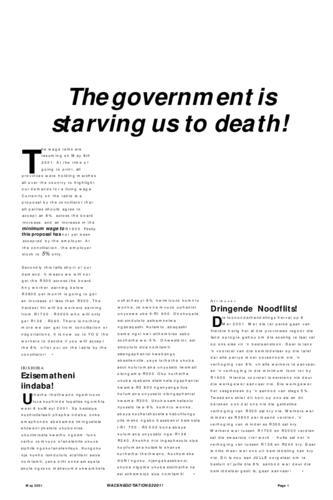 Campaigns Bulletin : The government is starving us to death!
Authors: SAMWU
Date: May 2001
Subjects: SAMWU
Language: English, Zulu, Swati, Xhosa, sePedi, seSotho and Afrikaans
Type: text
Identifier: http://hdl.handle.net/10962/113537 , vital:33799
Description: The wage talks are resuming on May 8th 2001. At the time of going to print, all provinces were holding marches all over the country to highlight our demands for a living wage. Currently on the table is a proposal by the conciliator that all parties should agree to accept an 8% across the board increase, and an increase in the minimum wage to R1900. Firstly this proposal has not yet been accepted by the employer. At the conciliation, the employer stuck to 5% only. Secondly this falls short of our demand. It means we will not get the R300 across the board. Any worker earning below R3800 per month is going to get an increase of less than R300. The hardest hit will be workers earning from R1700 - R3000 who will only get R136 - R240. There is nothing more we can get from conciliation or negotiations. It is now up to YOU the workers to decide if you will accept the 8% offer put on the table by the conciliator!
Full Text:
Date Issued: May 2001
---